The big news in the world of podcasting this week, of course, is the
announcements for finalists
in the
Parsec Awards
.
Many of our favourite Podiobooks authors have made a good showing, including Phil Rossi, JC Hutchins, Matt Wallace, Scott Sigler, James Durham, Christiana Ellis, PG Holyfield, Mur Lafferty, and our very own Philippa Ballantine. Also appearing is Christoph Laputka, author of the impressive, if irregular,
Leviathan Chronicles
.
Congratulations to all the nominees and finalists in this year's Parsecs, and good luck!
The past couple of weeks have also been busy with great information for new podcasters, and I would be remiss were I not to share a few links here.
Scott Sigler
has provided a great audio link to a speech he gave at Balticon in May this year, detailing his views on
the future of content delivery
. Fascinating listening, from the guy who has done it and made it work.
Mark Jeffrey
interviewed
Evo Terra
, co-founder of
Podiobooks.com
, on the
past, present and future of the serialised audiobook
. This is an in-depth discussion of both the technology and the form of the podcast novel as we know it, as well as touching on the wider aspects of social media that help to drive the format. Essential listening for anyone thinking about podcasting their novel, as well as for already published podcasters.
In what might not be news, but something which I just discovered this week, is the companion podcast to
Tee Morris
'
Podcasting for Dummies
.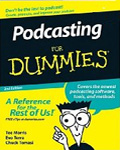 Even though I haven't read the book, and despite the fact that technology and software have moved on to make our lives even easier since this book was published, this is an invaluable guide to getting the core basics right, however you might be going about doing your recording, editing, uploading, and promoting. Just search for Podcasting for Dummies on iTunes.
Podioracket continue to roll out some great interviews, with upcoming folk including
J Daniel Sawyer
and
Mick Bordet
. These interviews are always entertaining and full of information, and if you can come join in the chatroom, many great laughs and interesting discussions are always had.
In the new releases department,
Starla Huchton
has just launched her novel
The Dreamer's Thread
. In Huchton's words, "
The Dreamer's Thread
is the tale of one Dreamer's quest to save the realm of dreams from the clutches of darkness." How cool is that? I've listened in on the first episode, and the narration, ensemble cast, audio production, music and writing are all excellent. I'll be following this one with interest.
Comic artist
Mike Luoma
has been remastering his audiobook
Vatican Assassin
, originally recorded in 2006, and the new episodes are now available on Podiobooks.com. Murder, Religion and Sci-Fi, all in crisp new audio. Check it out.
And if you haven't already, be sure to go and check out
Calvin Hubbard's blog
, featuring lyrics, thoughts and songs from his stay in the town of
Harvey
. Celebrity bloodhound
Ozzy Sheraton
obviously hasn't Googled this up yet, or she'd know better.